Since 1988, Dr Rodney Howard-Browne have traveled extensively throughout the USA and elsewhere in the world. From small churches to large stadiums, the message of revival has resounded. His ministry has made friends and enemies. You have to really experience the touch of heaven personally to be able to understand what God is doing in the meetings.
An example of this is the Good News Mdantsane (pronounced – mmm dant sa knee) in South Africa. Crowds upwards of 50,000 gathered each night for five nights. There were many miracles of healing but more importantly, over 100,000 souls gave their lives to the Lord that week.
Good News Mdantsane, South Africa, June 2006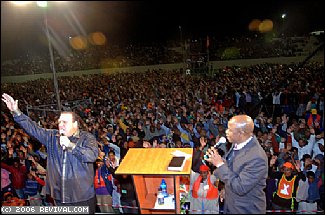 You cannot be in a meeting and try to figure it out from an intellectual standpoint. There have been many critics who have written articles, books and online critiques about Rodney Howard-Browne. Equally, there have been literally tens of thousands of people all over the world who have been profoundly touched and their lives radically altered for ever.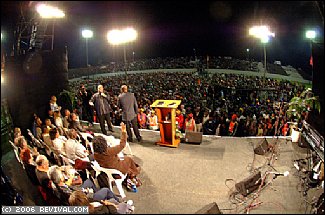 It's easy to be a critic, but it's another thing to lay down your life and make personal sacrifices to reach a lost and dying world for Jesus. To carry the gospel to the four corners of the earth. This is the vision of Revival Ministries International founder, Dr. Rodney Howard-Browne.